Congenital hip dysplasia: The importance of early screening and treatment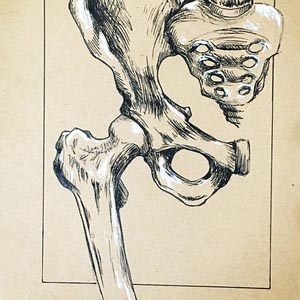 Published:
28 October 2022
Publisher's note
All claims expressed in this article are solely those of the authors and do not necessarily represent those of their affiliated organizations, or those of the publisher, the editors and the reviewers. Any product that may be evaluated in this article or claim that may be made by its manufacturer is not guaranteed or endorsed by the publisher.
Congenital Hip Dysplasia (CHD) is characterized by a hip joint dislocation between the femoral head and the acetabulum, with a multifactorial etiology. This disorder can be an isolated condition or the manifestation of a syndromic condition, and it has been estimated with higher rates than registered, with a predominance in female sex and left side; risk factors are now defined. In Italy, the incidence rate is 3-4%, with significant regional differences: higher in Lombardy and lower in Sicily. Because clinical examination alone is insufficient to diagnose CHD, it is supplemented with ultrasonography and X-ray if necessary. Surveillance, static or dynamic splints, or osteotomies are the only treatment options. The goal of this study was to evaluate our experience in terms of management and conservative treatment of all newborns from January 2018 to May 2022: female sex and left hip were major involved, risk factors were not significant in our case, but results from early diagnosis and treatments, in terms of better outcome, were interesting. After a strict 6-month follow-up period, 89.13% of the patients were classified as grade Ia or Ib according to the Graf classification system. Finally, we emphasize the importance of early universal screening and subsequent diagnosis to allow for early treatment of the disorder, at an age when conservative treatments can yield good results.
Grassi Federico A, Pezzaglia Ugo E, Pilato G, Zatti G. Manuale di Ortopedia e Traumatologia. III ed., Edra S.p.A; Milano:2021.
De Pellegrin M, Boero S, Origo C, Farsetti P. Congenital dysplasia of the hip (CDH). Terminology, early diagnosis, screening, recommendations. GIOT 2019;45:1-6.
Harsanyi S, Zamborsky R, Krajciova L, et al. Developmental dysplasia of the hip: A review of etiopathogenesis, risk factors, and genetic aspects. Medicina (Kaunas) 2020;56:153.
Zhang S, Doudoulakis KJ, Khurwal A, Sarraf KM. Developmental dysplasia of the hip. Br J Hosp Med (Lond) 2020;81:1-8.
Ulziibat M, Munkhuu B, Bataa AE, et al. Traditional Mongolian swaddling and developmental dysplasia of the hip: a randomized controlled trial. BMC Pediatr 2021;21:450.
Capaldo G. Approccio etnoiatrico alla displasia congenita dell'anca. Scienza Riabilitativa 2009;11:15.
RIPO Regione Emilia-Romagna 2000-2011. (s.d.). Register of the orthopedic prostheticimplants, 2000-2019.
Ortolani M. Un segno poco noto e la sua importanza per la diagnosi precoce di pre lussazione congenita dell'anca. La Pediatria 1937;45:129-36.
Barlow TG. Early diagnosis and treatment of congenital dislocation of the hip. J Bone Joint Surg 1962;44:292-301.
Yang S, Zusman N, Lieberman E, Goldstein RY. Developmental dysplasia of the hip. Pediatrics 2019;143:e20181147.
Kotlarsky P, Haber R, Bialik V, Eidelman M. Development dysplasia of the hip: what has changed in the last 20 years? World J Orthop 2015;6:886-901.
Pavone V, de Cristo C, Vescio A, et al. Dynamic and static splinting for treatment of developmental dysplasia of the hip: A systematic review. Children (Basel) 2021;8:104.
Schwend RM, Shaw BA, Segal LS. Evaluation and treatment of developmental hip dysplasia in the newborn and infant. Pediatr Clin North Am 2014;61:1095-107.
Jacobino BCP, Galvão MD, da Silva AF, de Castro CC. Using the Graf method of ultrasound examination to classify hip dysplasia in neonates. Autops Case Rep 2012;2:5-10.
Holen KJ, Tegnander A, Bredland T, et al. Universal or selective screening of the neonatal hip using ultrasound? A prospective, randomised trial of 15,529 newborn infants. J Bone Joint Surg Br 2002;84:886-90.
Pagnotta G. Displasia congenita dell'anca: screening ecografico universale versus selettivo. GIOT 2018;44;189-90.
Schaeffer EK, Study Group I, Mulpuri K. Developmental dysplasia of the hip: addressing evidence gaps with a multicentre prospective international study. Med J Aust 2018;208:359-64.
Weinstein SL, Dolan LA, Morcuende JA. The 2018 Nicholas Andry Award: The Evidence Base for the Treatment of Developmental Dysplasia of the Hip: The Iowa Contribution. Clin Orthop Relat Res 2018;476:1043-51.
Samaila E, Magnani M, Reggiani Marchesini L, et al. The mid-term outcome of open reduction dor development dysplasia of the hip. GIOT 2014;40:165-71.
Laborie LB, Markestad TJ, Davidsen H, et al. Selective ultrasound screening for developmental hip dysplasia: effect on management and late detected cases. A prospective survey during 1991-2006. Pediatr Radiol 2014;44:410-24.
Andreacchio A, Di Mauro G, Memeo A, et al. Guida pratica di ortopedia pediatrica; Sintesi InfoMedica S.r.l; Milano: 2020.
Marras, F., Asti, C., Ciatti, C., Pescia, S., Locci, C., Pisanu, F., Doria, C., & Caggiari, G. (2022). Congenital hip dysplasia: The importance of early screening and treatment. La Pediatria Medica E Chirurgica, 44(s1). https://doi.org/10.4081/pmc.2022.290
Copyright (c) 2022 The Author(s)
This work is licensed under a Creative Commons Attribution-NonCommercial 4.0 International License.
PAGEPress has chosen to apply the Creative Commons Attribution NonCommercial 4.0 International License (CC BY-NC 4.0) to all manuscripts to be published.